Task I Read the following news and for questions 1 to 5, choose the correct option.
It's in the news
Texting while walking is dangerous
Writing text messages and walking is dangerous. It is more dangerous than driving and texting. More people get injured while walking than driving. Walking in a straight line is not easy. We can forget how to walk properly. Dangerous things can happen. We run into people or cars. We fall over things in the street.
There are a few reasons why texting and walking is dangerous. People cannot see when they look at their keyboard. Their minds are somewhere else – they are not thinking about walking safely. Thousands of people have accidents. Some have serious head injuries.

Too much jogging could be a problem!
Running is good for our health. A recent study says that running too much is bad for us and it doesn't always make our lives longer. A specialist said too much running can damage your heart. Long-distance runners and people who never exercise can have the same risk of having a heart
attack.
Experts looked at the health of 3,300 runners. Most of them ran over 30 kilometres a week. Marathon runners had hard parts in their heart. A doctor who started running in 1967 is sad. He ran 60 kilometres every week. He thought his heart was strong. Now he has heart problems. He said we should exercise, but not too much.
1. Texting while walking is …
a. safer than driving and texting
b. worse than driving and texting
c. as dangerous as driving and texting
2. Some people can be hurt in their …
a. heads
b. backs
c. hands
3. Too much running could make our lives …
a. safer
b. shorter
c. happier
4. How many runners did the researchers look at?
a. Thirteen hundred
b. Thirty-three thousand
c. Three thousand three hundred
5. A doctor who started running in nineteen sixty-seven …
a. is very happy
b. said some exercise is good
c. thought his heart wasn't strong
Task II
Fill in the gaps with the words and phrases given after the text
RAT POISON ALMOST KILLS 3-YEAR-OLD
Three-year-old Simon Hobson nearly died after (a)___ at home in Bournemouth yesterday morning. Thomas' mother, Tina Hobson, was washing the car outside while young Simon was playing in the garage (b)___. The child found the rat poison (c)___ and put some in his mouth. Fortunately, Mrs Hobson walked into the garage a few moments later and (d)___. She put him in the car and quickly took him to hospital. Doctors at the hospital have said that the child (e)___ and will be taken home later today. Since the incident, the health authorities have released a statement to the press warning (f)___ to keep dangerous products well away from (g)___.
1) only ate a tiny amount of the poison
2) parents
3) eating rat poison
4) children
5) when the incident happened
6) in a box on the floor
7) and realized what her son had done
Task III
You will read six pieces of news about football.
Match each piece of news to the correct headline.
There is one headline which you DO NOT need.
HEADLINES:
A STAR PLAYERS PLAY IN NEW STADIUM
B FANTASTIC MATCH IN THE RAIN
C GREAT OPENING FOR GOLDEN BALL
D HOLIDAY AROUND THE WORLD
E SUMMER FOOTBALL FUN
F RAIN DELAYS MATCH
G INTERNATIONAL FUN AT HOME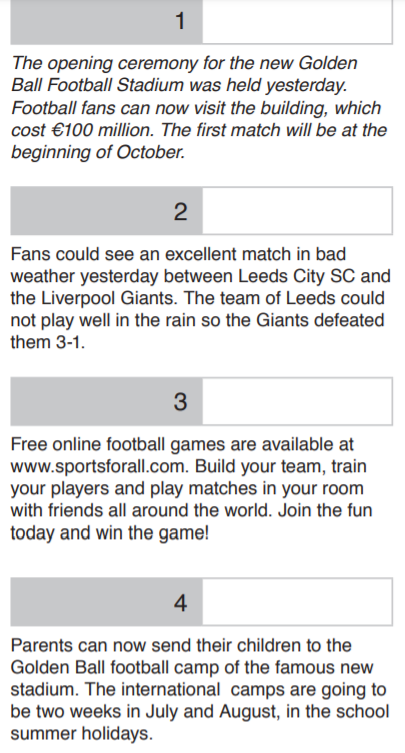 Task IV
Read the letter and mark the sentences as T (true) or F (false).


1. The advertisement is about a climbing trip.
2. The price does not include transportation.
3.  They will travel by bike.
4. The price includes a picnic on the boat.5. The writer likes vegetarian food.