Описание рисунка на английском языке 5,6,7,8,9 классы)
Это общий план. Его необходимо дополнять лексикой, соответствующей уровню владения языком или, наоборот, упрощать.
I would like to describe this picture.
In the picture I can see (a river, a beach a park, a room, a yard, a city, a street, a kitchen, a living room and a young family etc.)
in the background I see (a ship and some birds) Объяснить детям подробно, что такое

background

с примерами
In the foreground I can see (many children.They are having fun. ) Объяснить детям подробно, что такое foreground с примерами
It is summer (autumn, winter, spring)
The weather is (not) fine. The sky is blue (grey, dark). The sun is (not) shining. It is hot. It is raining. It is snowing. Если знаете еще какие-либо слова, добавляйте
Look at this boy (выделить одного персонажа)
The boy has got short brown hair and brown eyes. (Описать внешность — волосы, глаза — все, что знаете: age, hair, nose, mouth, special features, general impression)
He is wearing green and yellow shorts. (Описать, как одет персонаж)
The boy is running to the water to swim. (Описать, что делает персонаж)
I think he is happy. He is not sad because he likes swimming (to swim) (Описать настроение персонажа и причину его настроения (bored, excited, tired, unhappy, angry, pleased, annoyed, upset, sad, miserable, lonely, depressed, relaxed, concentrated, worried, happy, puzzled, confident, calm etc.)
Далее описываются несколько персонажей по одному или группами, если это необходимо*
To my mind, the atmosphere in the picture is (not) …….. (friendly, peaceful, relaxing, busy, warm, happy, crasy, positive, calm (Описать атмосферу на картинке)
As for me (generally speaking or frankly speaking), I like this picture because it is bright and colourful (because I like summer; because it is full of positive emotions) (Выразить свое мнение об изображении.) Любить можно все, что видишь на картинке: I like children, school, rain, holidays, birthday parties, cooking, eating, animals, dogs etc.
Примечание: если персонажи находятся в помещении, описываем место событий более подробно, используя структуру there is/there are или I can see там, где это более логично. Не забываем про цвета. There is a big brown table in the middle of the room. I can see two big green arm-chairs near the fireplace.
There is/ there are ……..in the middle of (the)…
I can see (a) …….
on the left/right of the picture …
next to (the)…
in front of (the)…
behind (the)…
near (the)…
under (the)…
on (the)…
above (the)…
between (the)…
on the wall
in the corner of (the)…
opposite the…
Пример: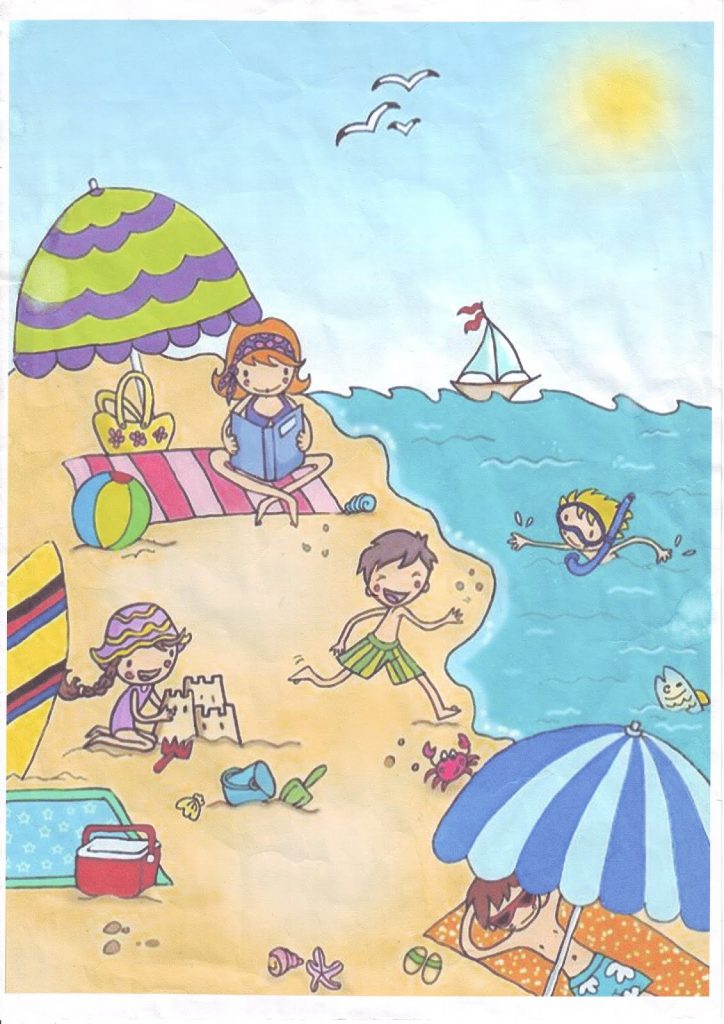 Hello, my name is… . I like pictures and I would like to describe this picture.
In the picture I can see a river and a beach.
In the background I see a ship and some birds
In the foreground there are many children. They are having fun.
It is summer.
The weather is fine. The sky is blue. The sun is shining. It is not raining. It is not cold. It is hot.
Look at this girl.
I think she is eleven years old. Her face is round. She has got short wavy red hair, small brown eyes and thin rosy lips. She is pretty.
The girl is wearing a violet kerchief and a violet swimsuit.
She is sitting on the beach mat under the umbrella reading an interesting book. There is a beach bag next to the umbrella. And there is a large light ball in front of the mat on the sand.
In my opinion, the girl is happy relaxed and pleased because she likes reading and playing ball.
To my mind, the atmosphere in the picture is friendly, peaceful and calm.
Frankly speaking, I like this picture because it is full of positive emotions and I adore summer